Online scan for Professionals in Finance
OBJECTIFICATION OF PROFESSIONAL STRENGTHS AS A UNIQUE ADDITION TO WHAT YOU ALREADY GET THROUGH H.R.
Our subject-matter scans bring professional strengths into focus. This objectification of strengths is a vital step for many clients and business partners in identifying the qualities of the (Financial) professional.
Having a clear picture of strengths makes for better and more precise conversations with colleagues and candidates about positions and development. And thus, to better (broadly supported) decisions during job rotations, the filling of positions, and choices regarding outcomes and team optimisation.
The scans also often serve as the basis and first gauge leading to a broader face-to-face development assessment in which we can map out the human side (from motives and types to potential and obstacles) as well as the professional side. Or simply as a way to filter a group of candidates for a vacancy (permanent or interim) or for identifying the relative strengths in a team. Evaluating via an online scan is of course also a logical choice when determining whether further education makes sense and where the emphasis should lie.
The scans are conceived and developed by BusinessController.nu and are conducted in different languages and countries. In the meantime, we have a reference group of 7000 professionals in Finance.

 The cutting-edge power of these scans lies in being able to compare the candidate's results against those of their peers, both in terms of absolute strength and in the nuances around the precise type of financial and how far these strengths go (or can go).

Is a controller for example more inclined towards business controller or financial controller?
 Is a CFO more of a compliance type or rather a business partner? How does this compare to a typical Private Equity CFO? Is the CFO still able to participate operationally in the "basics" or does he need a strong second 'man' in financial control behind him?
Is the financial manager stronger on the nitty gritty execution or does he/she oversee from a more conceptual side of things?
Is the administrative clerk capable of taking on financial control work? Or is he/she better at just executing the administrative tasks?
Does your IFRS expert (or tax expert, or BI DATA expert) have a real understanding of his/her field, or is this just something that looks good on their CV?
Depending on the customer's request, the choice is then made to carry out one or more scans.  Hereby a short menu of the scans available, please contact BusinessController.nu for further information.
Scans on brain power and line of reasoning
Scans on specific topics
Combination scans which look further at the talent and potential of young professionals
Combination scans which function like an MOT (annual car test) making a broader evaluation of experienced controllers
Customised scans for specific business applications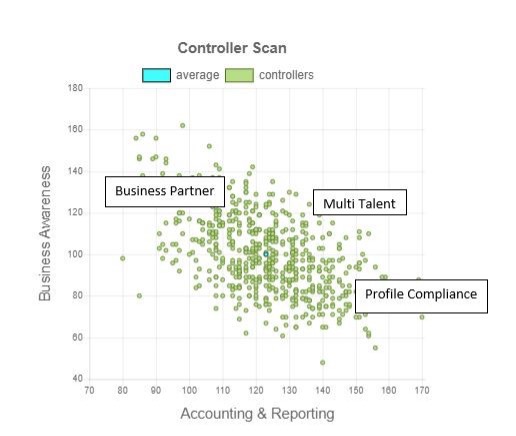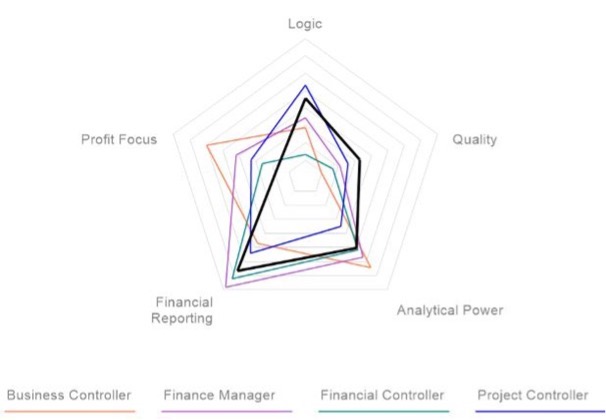 HOW THE SCANS WORK
The online scan enables us to measure in approximately one hour your colleague's, team, candidate or maybe your own actual subject-matter ability. Does a candidate really master the field or are they just off the mark? A distinction that really cannot be adequately guaranteed by a level of education or a CV, but which can be determined very objectively by the scan. A distinction that also helps all those involved make the right choice. A choice on where someone will or will not eventually fit, or on what employers should look for when filling the next vacancy.
The online scans consist of sets of questions linked to a choice of 5 answers for each question. The answers are not always 100% accurate and it then depends on the strength and experience of the candidate which answer they choose. The pattern of answers and the strength of the responses are then compared to the other professionals (now anonymous) who also did the scan. This generates relative scores and also allows us to compare results with typical averages of people working in a particular job. Each of the scans has a growing reference group of several hundred to several thousand professionals.
The results are compiled on different axes and dimensions. The power of our database allows us to draw crystal-clear conclusions which are then presented in our reports.
VISION: 'Digital Finance' is not IT but Finance, the future has already begun and is rapidly dividing Financials and Controllers into two groups.
A frequently asked question is what digitalisation will mean for professionals in Finance. Part of the answer lies simply in recent history, digitalisation has after all been going on for over 20 years. We are already seeing a difference in the strengths in 'Digital Finance' or the awareness of professionals. Some have been fortunate enough to gain fantastic exposure to 'Digital Finance' in their financial roles, often at forward-thinking organisations. Others have not had these experiences and see 'Digital Finance' (wrongly in our opinion) as IT or something of the future. The way we see it is that the acceleration of digitalisation added to the vast digital mindset of younger people entering the labour market, will make skills in 'Digital Finance' and awareness commonplace for all those aged under 45 within the next 10 years. This will reveal huge differences in the group above. Some will "go with the flow" and "catch on", whereas others will remain unskilled in 'Digital Finance'. This latter group will undoubtedly be limited in terms of employability, unless they are a true expert in a particular field. What do we see happening?
For years now we have been witnessing an increasing demand for pure Financial Controllers on the one hand and real Business Controllers on the other. There is a shortage of professionals who stick out based on their professional strength. At the same time, we see a huge group of people (old and young) who are caught somewhere in the middle. This middle group, composed of those neither expert at financial controlling nor business controlling is mostly occupied with a hybrid array of activities, mostly collating reports which have in many occasions little direct impact.
Further digitalisation will lead to specialists in 'Digital Finance' (currently large amounts of consultants and hip companies), but also to the demand for expertise within organisations. The financials with strengths in 'Digital Finance' are ahead of the game and will get better opportunities and more exposure. This applies to the pure experts (Financial Control, Business Control) as well as to the group in the middle.
The bottom line is that  those that turn away from developments in 'Digital Finance' and that are not skilled in a particular aspect will end up having a particularly hard time. The current group of Financials without skills in 'Digital Finance' or real expertise will get partly stuck in an employment bottleneck, and new people with strengths in 'Digital Finance' will have a broader pond to fish in. Nowadays things are so bad that "in the land of the blind, the one-eyed man is King". We see many organisations put certain employees on a pedestal just because they are that bit further than their colleagues. The key question is of course: where do you stand regarding these three groups, where does your team stand, what is your strategy for the future? This is not a value judgement but an objective look in the mirror. How are you looking after yourself in this respect, how are you taking care of your colleagues? How do you involve your current colleagues in 'Digital Finance projects' and avoid paying for external consultants who then gain valuable experience in your organisation while your own 'long term' financial staff remains behind.